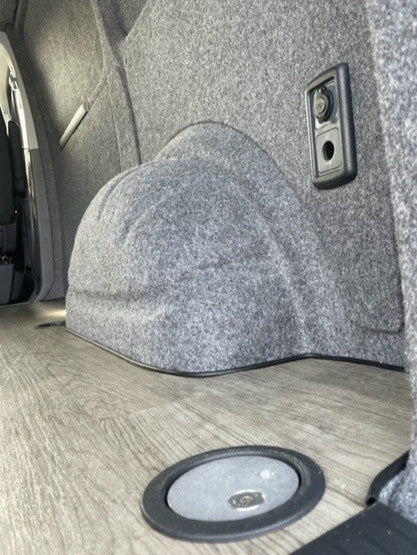 Power for your Slidepod
One of the many benefits of a having a Slidepod is the various ways you can power your Slidepod, Giving you cost effective options for your van.
A Slidepod has been designed to use very little power, making it possible to run off just the engine battery alone via a 12v socket (Cigarette lighter type) which are normally located in the rear of your van or in the dash.
A socket can be installed (if required), or a longer lead (3m) can be provided free of charge to allow you to use the dashboard 12v socket if preferred. Alternatively, the Slidepod can be powered from a leisure battery or a portable power pack, such as the Delta Flow from Transporter HQ power packs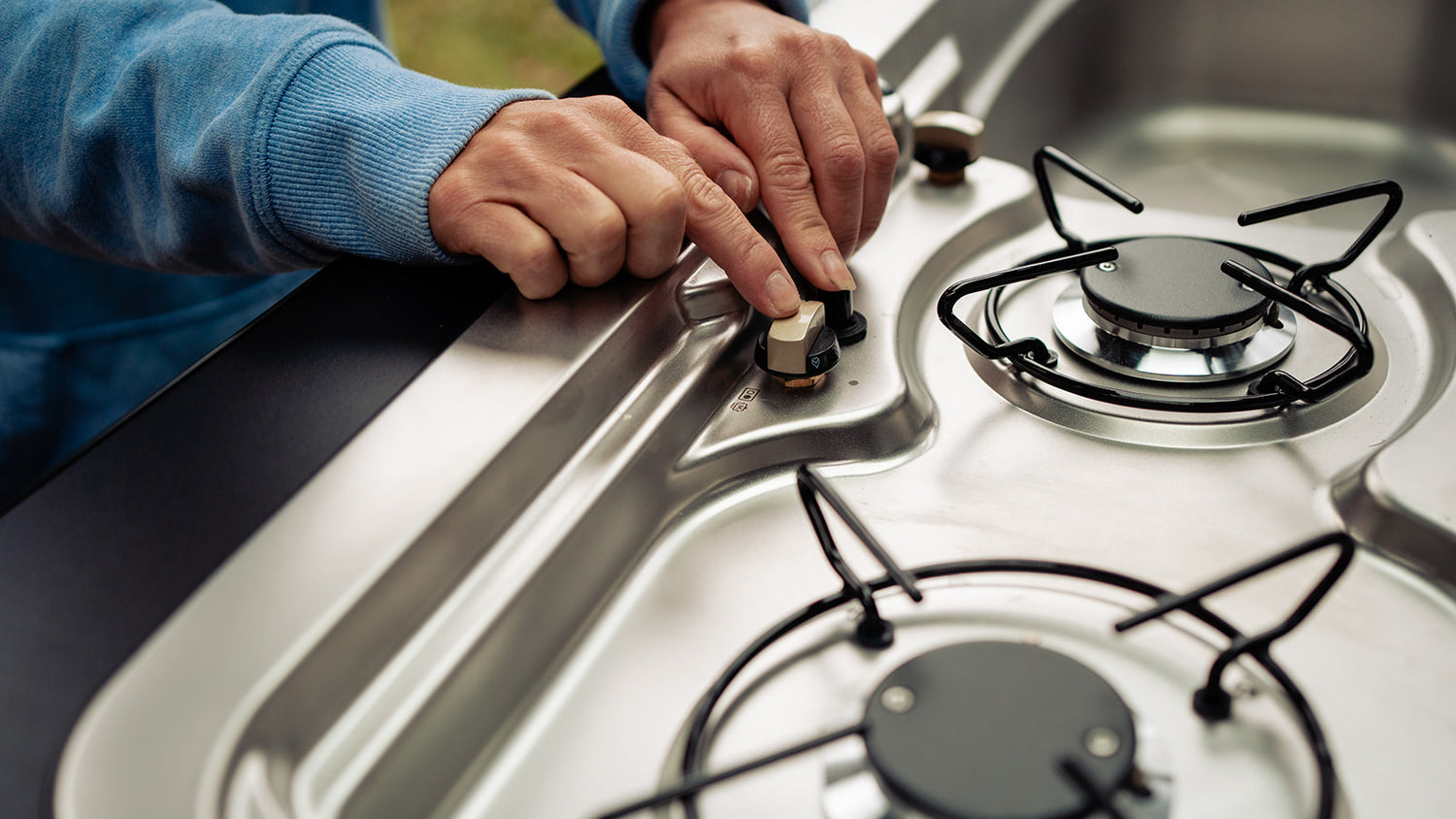 The Slidepod 2.Zero Kitchen hob
 The  rear camping kitchen unit come as standard with a double ring gas burner with a Piezo ignition system. The integrated gas delivery system for the two-burner hob is situated on the rear of the unit. This system is compatible with 2 x 500g Butane/Propane Gas Cartridges. The gas can be purchased from most camping shops or online stores.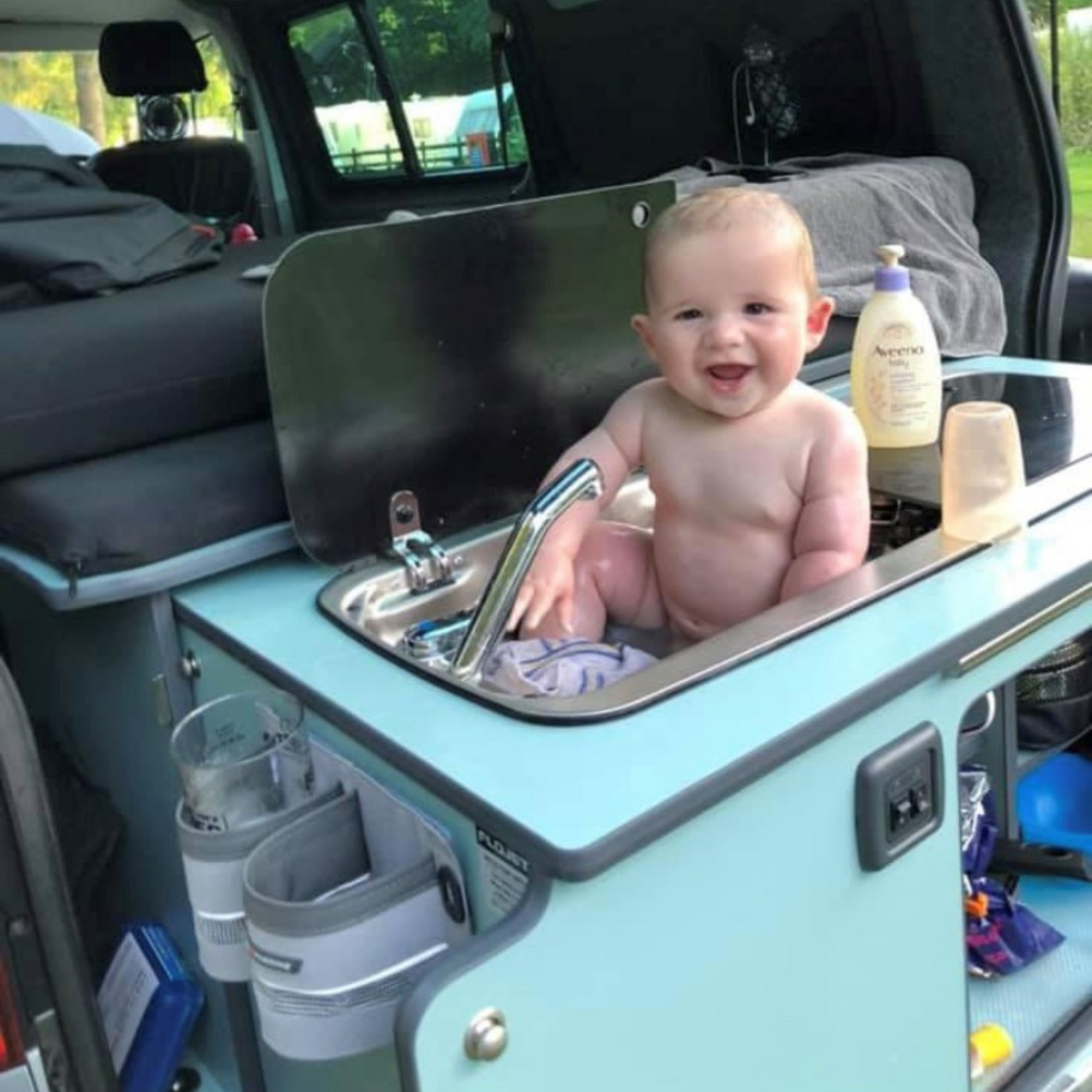 Sink and water tanks
The camping kitchen hob unit also offers a good size sink which is bigger than the the VW California Ocean's sink. With a stylish chrome tap and integrated fresh and waste water tanks allows for ease, convenience and practicality when doing the washing up. The Slidepod has an electric waste water valve to allow you to drain and dispose of your waste water easily and responsibly.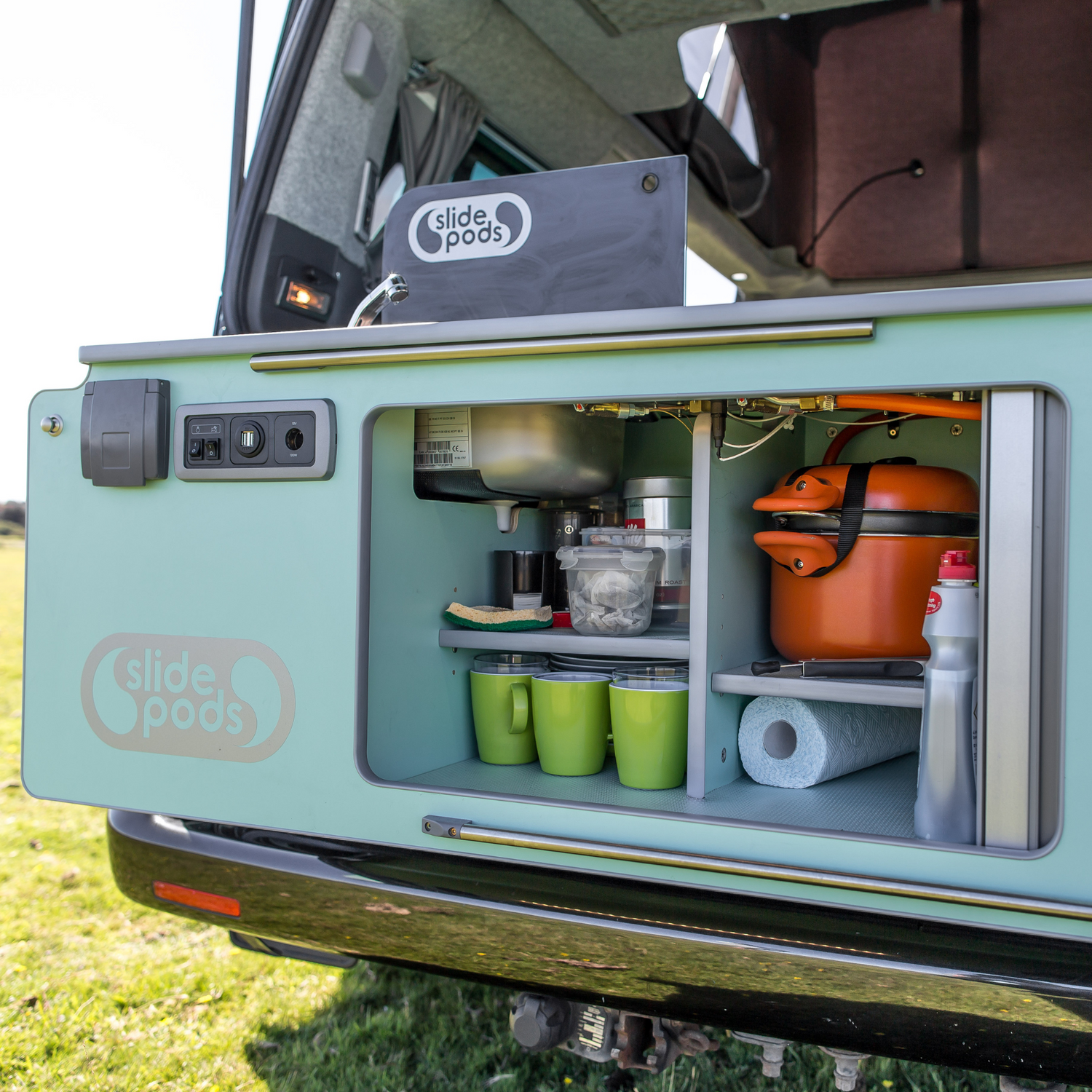 Storage cupboard
Underneath is a large storage cupboard with interchangeable shelves for all your camping cooking equipment and food items. This space is accessed by a large tambour door, saving precious space without using hinged cupboard doors.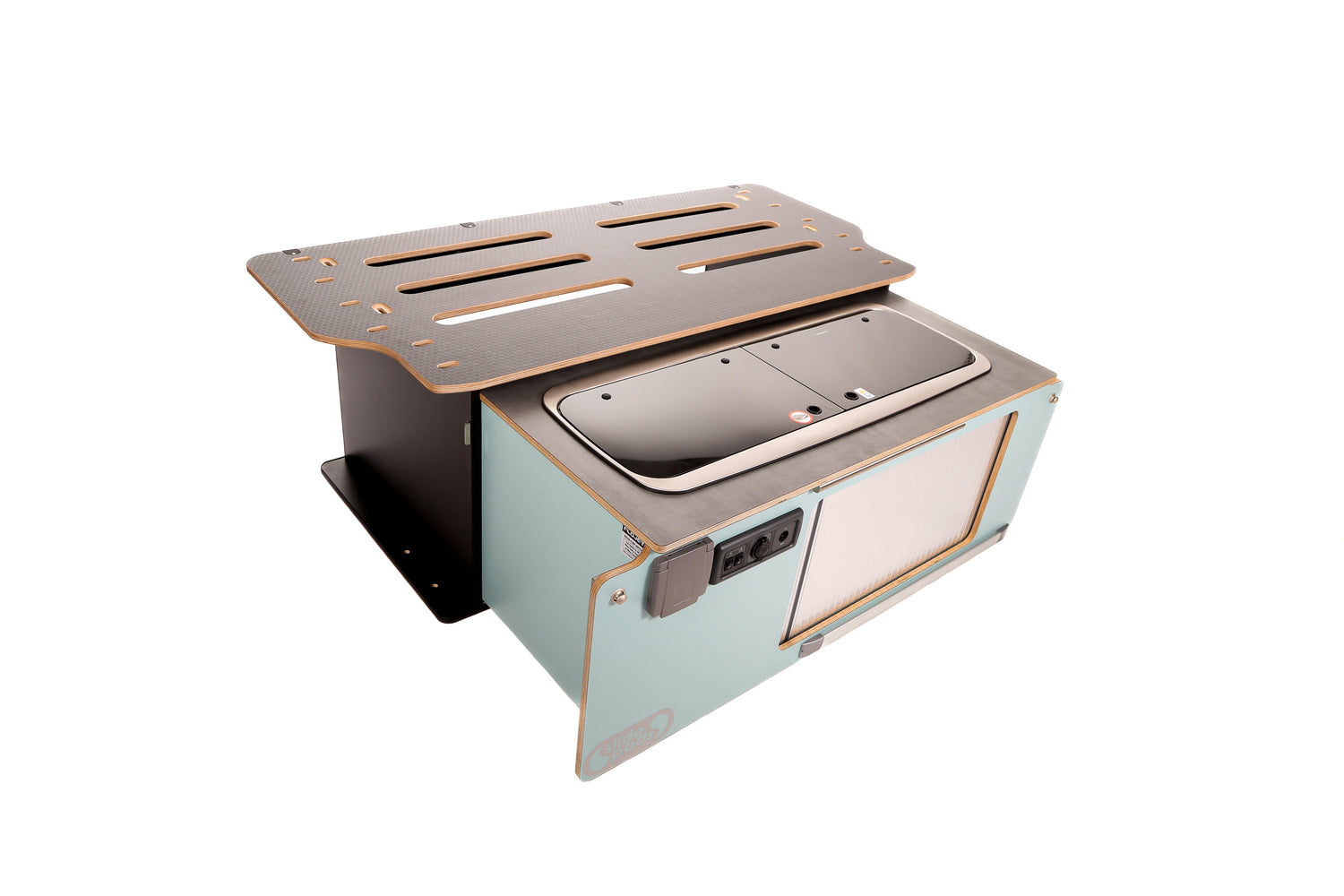 Casing unit
The Slidepod 2.Zero includes the casing unit as standard. The rear pull out camping kitchen unit is housed within a casing system that is bolted and strapped to the floor of your van. The kitchen unit simply slides onto the self-locating runners of the casing system, allowing for easy installation or removal from the van. The casing unit and kitchen pod can be removed by two people within 5 minutes.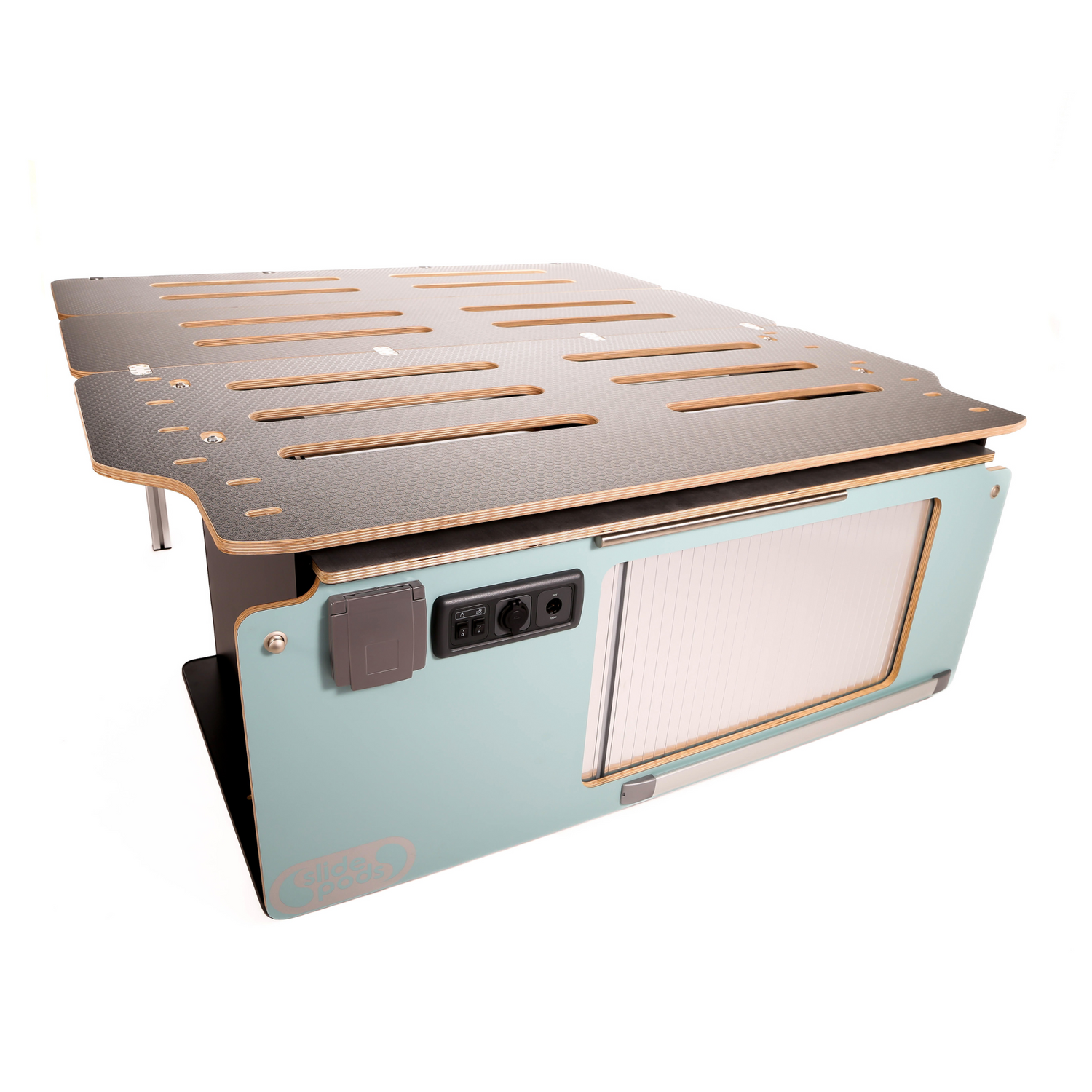 Casing with bed board upgrade
The hinged bed board system is an upgrade that works with the casing unit to create a full length bed platform that either works in conjunction with your rear seats folded flat, or as a stand alone bed system.
Colour choices for your Slidepod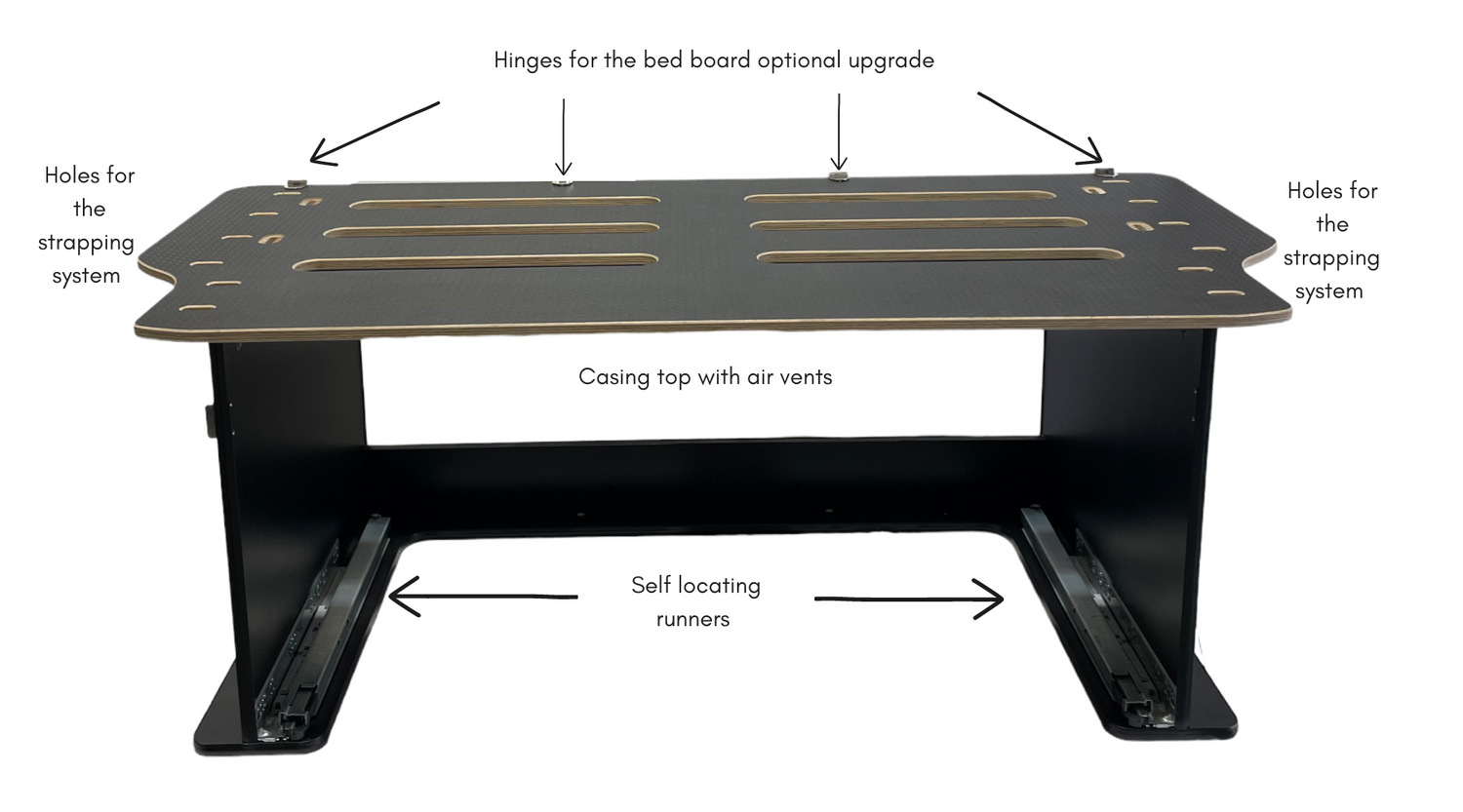 Choose the Slidepod for your van type